Who we are? What we do?
GetCert Pvt.Ltd. is a third party inspection and certification body established in 2017 with a vision to promote sustainable agriculture and allied industries and to offer a mark of recognition to the produce coming out from such sustainable business.

GetCert Pvt.Ltd. operates from its head office situated at Nanded, Maharashtra State of India. Unlike the others both the directors of GetCert Pvt. Ltd. possess more than a decade of experience in organic agriculture and allied business practices, inspection, certification and accreditation with respect to various national and international certification schemes. GetCert Pvt.Ltd. have access to competent and experienced technical and non-technical human resources came from certification background and motivated with a mission to promote sustainable agriculture in order to conserve our ecosystem.
Quality Policy
Peruse constant commitment towards statutory/ mandatory requirements, inspection certification and accreditation rules set by relevant standard and ISO 17065 guidelines. Provide independent, impartial and reliable certification services. Preparedness for continuous improvement and translating companies policies in everyday practices.
Quality Statement/ Vision Statement:
With the help of highly trained and competent staff, Getcert Pvt. Ltd. certifies the operations which fall under its area of activity. Continuous improvement, constant adherence to the rules and regulations, customer focus and comprehensive assessment are the four stakes of Getcert Pvt. Ltd. Impartiality, independence, un-biasedness are the virtues through which Getcert Pvt. Ltd. strives to provide most controlled, reliable, efficient and timely services to the operations which fall under the area of activity.
Quality Objectives
Clear, impartial, non-discriminatory and independent approach.
Continuous improvement and customer focus.
Comprehensive risk assessment and certification.
Confidentiality in operations.
Complete observance of management system requirements.
Accreditations
Getcert's application for NPOP accreditation is under process by Agricultural & Processed Food Products and Export Development Authority (APEDA), Ministry of Commerce & Industry, Government of India as an Inspection and Certification Body under National Programme for Organic Production (NPOP). For more detail, visit https://apeda.gov.in
Getcert is accredited under ISO/IEC 17065:2012 - Conformity Assessment - Requirements for Bodies Certifying Products, Processes and Services for by International Organic Accreditation Service (IOAS) Registration Number: 149. Please refer www.ioas.org/accreditation/accredited-bodies/ for current information.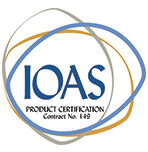 Getcert Pvt. Ltd., is accredited by the Canadian Food Inspection Agency on the recommendation of the IOAS to certify agricultural products and packaging and labelling activities as organic in accordance with the requirements set out in Part 13 of the Safe Food for Canadians Regulations (SFCR)."